GUARDIANS
From MMVLWiki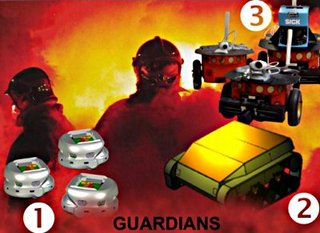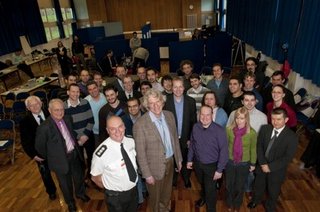 The GUARDIANS project
GUARDIANS final report (https://shura.shu.ac.uk/2340/) now available.
Final report Part 1 draft here (https://shura.shu.ac.uk/1089/1/FinalReportPart1.pdf).
Some videos of research outputs are available here (https://vision.eng.shu.ac.uk/mmvlwiki/index.php/Saez).
Objective
The GUARDIANS project is the European Union 6th framework program project no: 045269 (https://cordis.europa.eu/fetch?CALLER=PROJ_IST&ACTION=D&RCN=80210). The Guardians project involves 8 European partners. The Guardians are a swarm of autonomous robots applied to navigate and search an urban ground. The project's central example is search and rescue in an industrial warehouse in smoke, as proposed by the Fire and Rescue Service of South Yorkshire. The job is time consuming and dangerous; toxics may be released and humans senses can be severely impaired. They get disoriented and may get lost. The robots warn for toxic chemicals, provide and maintain mobile communication links, infer localisation information and assist in searching.
The project ended January 2010.
Results
(Comments from the final project review)
---
The GUARDIANS project research results have been primarily in the areas of:
Chemical sensor development,
Communications infrastructure,
Robot behaviours (swarming, mapping, and localization),
Base station and human-robot interaction, and
Experimental verification, validation and integration of the component technologies.
The Guardians project has brought up several remarkable achievements to the existing state-of-the-art in various areas within the project.
These are as follows:
(a) The development of MOS/QCM-based chemical sensors, leading to a prototype of compact chemical sensing system.
(b) Design and prototype development of a Mission base-station as a GUI to the Guardians system, which has advanced the state of the art in such systems.
(c) Design and prototyping of a robust communication infrastructure and routing system for environments with low RF reach distance, which appears to be very promising.
In addition, the design of robot swarming, mapping and navigation behaviours for groups of robots capable of operation under poor performance of communication was very good but was not brought to a fully functional and complete solution. The demonstrations showed significant progress, and in some cases, achieved fruition.
Outputs
Click above to see a list of publicly available deliverables that have been generated by the project
Click above to view a number of publications linked to the project.
Click above for a summary review of the main Work-Packages
Media
Partners
Coodinator
Academic Partners
Industrial partners
External Links